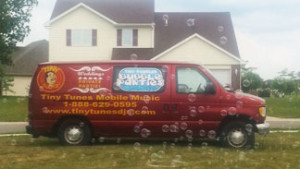 Thanks for taking the time to find out more about TINY TUNES Event and Entertainment Services! Let me introduce myself. I'm Steve "Tiny" Michaels, Disc Jockey, Master of Ceremonies and CEO (Chief Entertainment Officer.)
Tiny Tunes has been providing mobile music and emceeing since 1981, starting with humble beginnings performing with a rented stereo, two turntables and a big box of records and continuing to the professional equipment and experienced performances of the present day. During that time, I've performed at literally thousands of events; including hundreds of weddings, private parties, corporate events, children's parties, auctions, concerts…if there's sound, music and a microphone involved, chances are I've done it at least once.   In addition, I've been a radio broadcaster since 1987, at various area stations.
If you're looking for a Disc Jockey in Fort Wayne, Northeast or North Central Indiana, Southern Michigan, or Northwest Ohio, TINY TUNES would love to help you with your next event! Call or email me, and let's get started!