Engaged to be Married?…Congratulations!
Tiny Tunes wants to help you create the wedding reception of your dreams!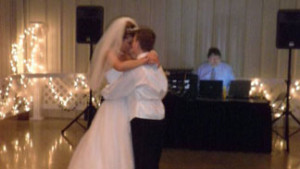 Your wedding day will be one of the most treasured memories of your life…and the entertainment at your reception will be one of the things your guests will remember most about your special day. Selecting the right wedding music can take a lot of time and effort. Fortunately, I'm here to help guide you through the process...to make your reception the one-of-a-kind party it should be!
I'm happy to help you select the perfect songs for your special dances—from the traditional, to the wildly creative. For the rest of the party, keep in mind that the music you choose should be a direct reflection of your style, tastes and likes—while keeping the entertainment of your guests in mind. From the most elegant and romantic setttings to the most fun and upbeat dance floors, to those very intimate moments when the two of you are finally alone on the middle of the floor with eyes locked on each other—I'll help you plan it all, and then deliver the finished results at your reception! Music selections should also be taken into consideration for your cake cutting, toast, removal and toss of the garter and bouquet, and your dramatic exit as well.
Tiny Tunes has served Fort Wayne, Northern Indiana and Northwest Ohio for over 25 years. Our experience, professionalism and range of services will help to make your reception a success.
Our customized DJ Entertainment for your wedding includes: 
• A reception tailored to your wishes
• Consultation to plan your event from your grand entrance to the last dance
• Reception planning guide
• Experienced Master of Ceremony for introductions and announcements
• Formal attire, if desired
• Choice of music from the Big Band era to today's hits
• Requests taken before and during the event
• Wireless microphone for the toast and other events
• Professional sound system
• Light show, upon request
• Contract to guarantee your date without worry
Tiny Tunes has everything you need to make your day complete….with no worries! I will work hard to make your special day one-of-a-kind. Making YOUR reception all it can be is my focus.
As each wedding reception is unique, so is the cost of planning and performance. Prices vary depending on your needs, ranging from $495 to $1200 for Saturday receptions, with discounts available for Friday and Sunday weddings. Contact me for pricing information.
Call or e-mail me today, and let's get started on planning your special day!