LET'S GET READY TO BUBBLE!!!
TINY BUBBLES Bubble Parties are a perfect way for kids- even kids as young as two and three years old- to experience all of the fun of a mobile music party in a familiar outdoor setting—their play area, or even their own back yard—with music, games, and most of all….BUBBLES!
What exactly is a TINY BUBBLES Bubble Party?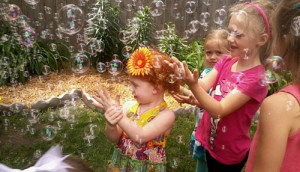 A TINY BUBBLES Bubble Party is a high energy, fun, interactive, unique one hour show for kids as young as 2 and as old as 11! (More time can be allotted based on your needs.) We combine music, dancing, games, and fun geared toward younger children. Bubble Parties are perfect for Daycares, Elementary Schools, Kindergarten Classes, Day Camps, Children's Birthday Parties, or "Just Because!" TINY BUBBLES Bubble Parties are mostly performed outside in the school's play area or backyard, although they can be modified to work inside in case of inclement weather.
A TINY BUBBLES Bubble Party provides you with a free-wheeling hour of fun! The music is upbeat and energetic (and age appropriate), the games are simple and fun, and every time the bubble machines fill the air with bubbles, the energy is infectious! Kids of all ages love bubbles…and a TINY BUBBLES Bubble Party delivers thousands of bubbles, and more!
The staff at preschools and daycares are blown away by the amount of fun their children are having with a TINY BUBBLES Bubble Party! TINY BUBBLES is a great addition to a backyard birthday party, too….OR to keep the kids busy and having fun during reunions and family get-togethers!
Bring a TINY BUBBLES Bubble Party to YOUR backyard!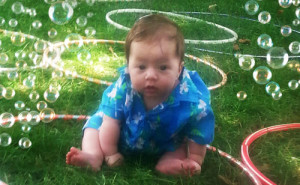 Prices for Bubble Parties start at just $125, with your exact price based on date and time, distance, duration, location, etc. The smiles, giggles, and shrieks of excitement and joy from the kids, however, are priceless…as they enjoy the unique fun of a TINY BUBBLES Bubble Party! Call today…We have a limited number of dates and times available!
TINY BUBBLES Bubble Parties are also great for community events like fairs, festivals and more! Special pricing is available for multiple hours of entertainment.